Note: a few of the images previously posted here have poofed. Since I do not have the originals, or know where the originals were hosted from, I cannot replace them. -Luven
Jump to: Shirefest 2014 Shirefest 2015 Winterfest 2015
Party in the Park Shirefest 2016 Winterfest 2016
Shirefest 2017 Winterfest 2017 Spring Music Festival
Under a Fool Moon/Under a Fool Moon, Too!
It all started with Breakfast Club. The band was formed for Ghosts, Goosebumps and Graveyard Tales, the first one of Second Breakfast's annual Harvestmath events. The band came back together for Weatherstock III:
Another Crickhollow band, Symphonious, also played at Weatherstock III. They were known for free playing and creative compositions:
Breakfast Club would go on to play weekly shows on Crickhollow, monthly ones on Landroval, the occasional concert on Laurelin, Sirannon and Gladden, and three more Weatherstocks. Some of their performances may be seen on their band page.
Shirefest marked a turning point in the Crickhollow music scene. It kicked off in August of 2014 with 12 great bands, including three Crickhollow bands making their debuts and two other local favorites. Breakfast Club took to the stage in front of the Bounders Statue in Michel Delving, followed by The Crazy Ladies of the Forest, The Starlight Orchestra, DisEnchanted, The Heartbeaters, Green Hill Country, Firebrands, and The Grand Band of the EoM.
Elevenses took place inside Michel Delving's Bird & Baby and was followed by a set from Bits & Pieces. Brandywine and Biscuits (video) performed next, followed by A Rock & a Hard Place (video), The Rolling Kegs (video), and Andune Ensemble (video).
Shirefest 2015 was the biggest event in Crickhollow history, with over 2 dozen performers during the 4 day fest. It kicked off on August 14th with Bread & Jam at the Prancing Pony. Saturday included performances from Breakfast Club (featuring Bolero: A Hobbit Ballet), The Crazy Ladies of the Forest (video), A Twynk Tale, The Ninny Hammer (video), The Rolling Kegs (video), a story from Dufnald, The Department of Harmony and Song (video), Vethlo, The Grand Shire Dance-off, Daffin, Larksong, A Rock and a Hard Place (video), Firebrands (video), Drummor, Fraggle Rock (video), and Maidens of Vanimor (video).

On Sunday, Elevenses moved to the Plough and Stars. Day three performers included: Harlequins, The Travelling Bilberries, The Frequency Modulators, Brandywine & Biscuits, Andune Ensemble, and the Crickhollow Supergroup

The final day of Shirefest featured Old Winyards and DisEnchanted before one last Elevenses at the Plough and Stars
Winterfest was introduced as a Yuletide companion to our summer event on December 11th & 12th in 2015. Friday opened the festivities with Breakfast Club, DisEnchanted, Misty Mountain Hobs, and P.I.E.
Saturday's terrific array of performers included Struck by Moonlight, Little Wanderers, Dulcet Tones, Fraggle Rock, A Rock and a Hard Place, Lag Spike, and Michel Delving Bunny Watch.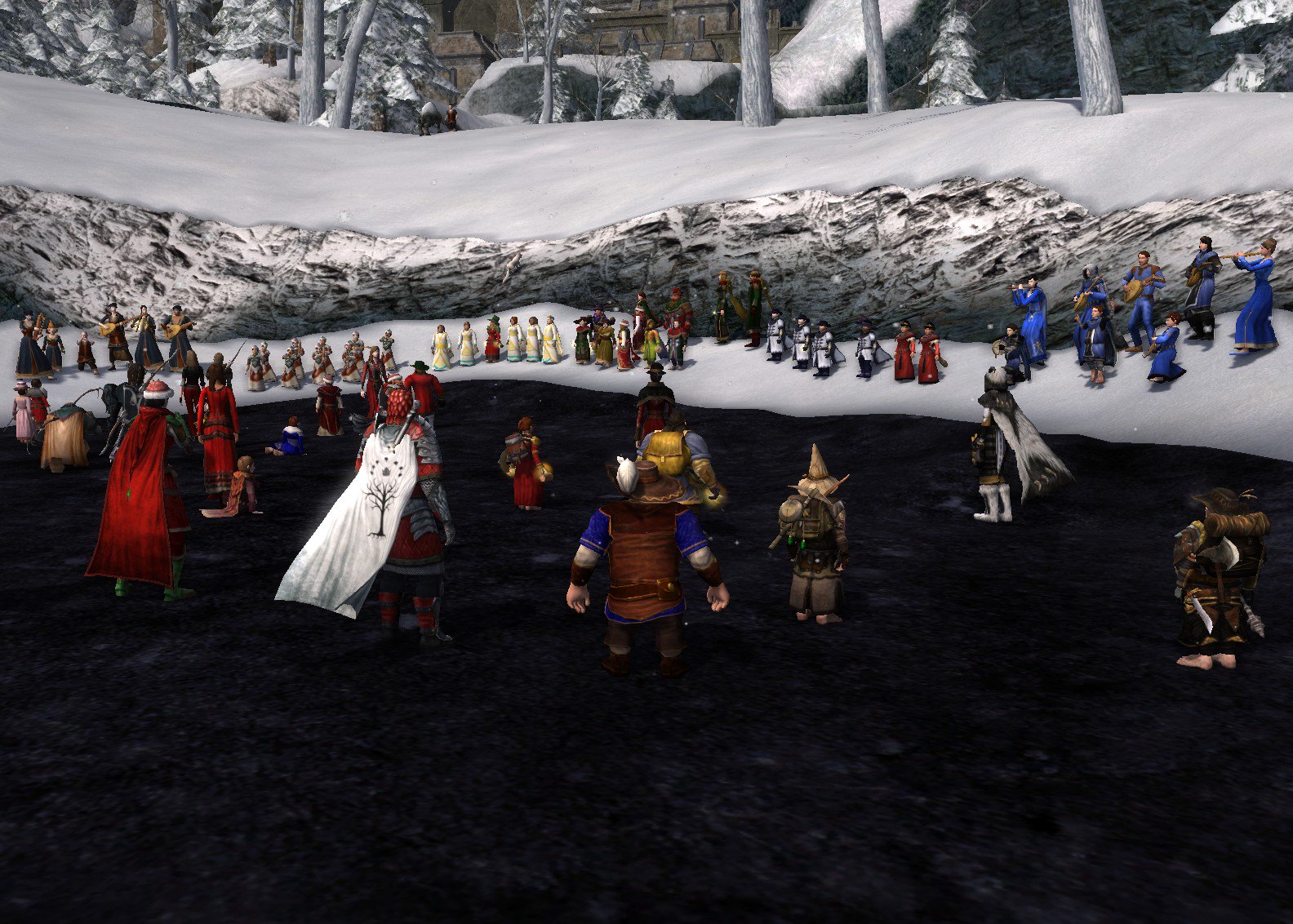 The first Party in the Park was held on November 14, 2015. Performers included Little Wanderers, Remediators, and Breakfast Bits.

The Second Party in the Park on February 27, 2016 featured The Traveling Bilberries, Misty Mountain Hobs, Dulcet Tones, DisEnchanted, and a Twynk Tale.
Shirefest 2016 took place in a breathtaking setting in the fields south of Scary. For the first time, the entire show was captured, sometimes by more than one videographer. 28 bands joined us for three days of music.
| | | |
| --- | --- | --- |
| Friday | | |
| | 2:00 PM | Belle Tones (watch, 2) |
| | 3:00 PM | The Ninny Hammers (watch, 2) |
| | 4:00 PM | Traveling Bilberries (watch, 2, 3) |
| | 5:00 PM | A Rock & A Hard Place (watch, 2) |
| | 6:00 PM | Mardi Gras Party Band (watch, 2) |
| | 7:00 PM | The Lollipops (watch, 2) |
| | 8:00 PM | Michel Delving Bunny Watch (watch, 2) |
| Saturday | | |
| | 12:00 PM | Breakfast Club (watch, 2) |
| | 1:00 PM | Little Wanderers (watch, 2) |
| | 2:00 PM | Mystic Knights (watch, 2) |
| | 3:00 PM | Remediators (watch, 2) |
| | 4:00 PM | Skarn (watch, 2) |
| | 5:00 PM | Die Bunten Vögel (watch, 2) |
| | 6:00 PM | Firebrands (watch) |
| | 7:00 PM | Firefoot Bluegrass Band (watch, 2) |
| | 8:00 PM | Lag Spike (watch) |
| | 9:00 PM | Dance Flora (watch) |
| | 10:00 PM | DisEnchanted (watch) |
| | 11:00 PM | No Whole Bard (watch) |
| Sunday | | |
| | 11:00 AM | ELEVENSES |
| | 12:00 PM | The Aleford Band (watch, 2) |
| | 1:00 PM | Les Chantefables (watch, 2) |
| | 2:00 PM | Struck by Moonlight (watch, 2) |
| | 3:00 PM | Andune Ensemble (watch, 2) |
| | 4:00 PM | Brandywine & Biscuits (watch, 2) |
| | 5:00 PM | Harlequins (watch, 2) |
| | 6:00 PM | Dulcet Tones (watch, 2) |
| | 7:00 PM | Misty Mountain Hobbs (watch, 2) |
| | 8:00 PM | Fraggle Rock (watch, 2) |
Winterfest 2016 marked an expansion of the festival to a three day event. 20 bands braved the cold of the Thorin's Gate lakes.
Shirefest 2017 settled into a permanent home at the Methel-stage. The festival was more international than ever with musicians hailing from 5 continents and bands that played on all current servers.
Winterfest came back for a third edition in 2017. Most of the 20 bands played the previous year but we also welcomed a few new performers.
Saturday's performers were Breakfast Club, Polnolunie, Struck by Moonlight, Quentera, Little Wanderers, Dr. Star & The Acoustic Mayhem, Purple Pipeweed Parlor Band, No Whole Bard, DisEnchanted, Puddlejumpers, Savo 'Lass, and Skarn. Sunday's show included Dulcet Tones, The Department of Harmony & Song, The Rolling Kegs, Andune Ensemble, A Rock and a Hard Place, Misty Mountain Hobbs, Mardi Gras Party Band, and Imladris Sunset.
The first Spring Music Festival was held on April 1, 2018. Our solo performers were no joke! Toadflax was the overall winner, followed by Pfunki, Rhunt, and Appletart. Vethlo, Oswego, and Duidhrastir also gave incredible performances which made the decision very difficult for our judges!
Under a Fool Moon was the brainchild of Luventhariel, who rarely caught musical performances because of her schedule. Night-shifters, late night gamers, and players from Asia & Oceania deserved their own festival. She invited musicians to the party and the crowd stayed in Celondim for hours. Performers included Laaleth & Duidhrastir, Andgail, Durgil, Laerlas, and Pfunki. The Mardi Gras Party Band, The Stoors, the Mithril Moon Band, and Alt Rock Band also performed.
Under a Fool Moon, Too! followed a year later. Musicians included Mardi Gras Party Band, Michel Delving Bunny Watch, The Usual Suspects, Puddlejumpers, The Stoors, Ghosts n Roses, and Alt Rock Band. Everyone was excited about the rare opportunity to listen to and play music outside of the typical hours.
Shirefest 2018 returned to the Methel-stage and after the great turnout at Under a Fool Moon we decided to add some late night hours on Saturday. We hosted a mix of old bands and new and once again spanned the in and out of game globe. Shirefest was featured on the official LOTROstream for much of the weekend thanks to the hard work of Cordovan and Phoenix (as well as some others) but the MVP as always was Hollyberye for recording so many performances for her YouTube channel.
Shirefest 2019
Shirefest 2019 was held on the Methel Stage over the 4th of July weekend. This was the first time that Shirefest was without it's beloved founder, Rosalie Rumble, and was dedicated to keeping her dream of creating a music community on Crickhollow. Duidhrastir and Luventhariel shared Production duties, with the help of many Second Breakfasters.
The Bands were wonderful, bringing their "A-game", with polished performances and beautiful music all around! Bands that helped start Shirefest returned again to pay homage to Rosalie, tributes were abundant and gorgeously done. New bands showed off their styles and songs. And the crowd was consistantly large and enthusiastic!
Pheonix was Super Awesome, and with the help of plenty of caffeine and cats, recorded every single performance! And Pontin received an Honor among Honors, being the first player in Lotro to be given the "Performer of Note" title, which he held without competition for two weeks.
Shirefest 2020
Our 2020 Shirefest was held in June, and was again, our biggest Shirefest ever! The tradition continued with top-notch performances by all the bands, wonderful introductions, and plenty of dancing and joking and just having fun with the biggest crowds we've ever had!
Shirefest 2021
With Covid in full swing, Shirefest allowed us to socially distance while all being together in a crowd! 2021 had 30 bands with over 30 hours of music!
Rosalie Rumble's Shirefest 2022
This is the first year with the deserved Official Name Change in honor of Shirefest's founder. With Real Life affecting so many folks this year, Shirefest still managed to bring together 22 bands for over 22 hours of music. 22 seemed a magic number, as this year's Shirefest went perfectly, with not a single hitch or flub. And Shirefest seemed more cozy and intimate, and more relaxed and fun!